Supported by: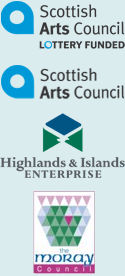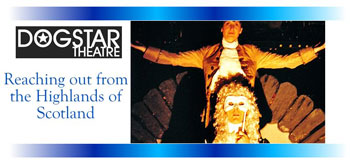 The Heretic's Tale
– by Hamish MacDonald – a play about faith and fanaticism, is touring Scotland from September 27 to October 14 2006. We hope you will be able to make it along. The tour will cover the Highlands and Islands, Glasgow and Galloway.
Directed by Stephen Docherty, designed by David Ramsay, performed by Annie Grace (as Elspeth Buchan) and Matthew Zajac (as Andrew Innes) with Christine Hanson on cello, the production is based on the true story of the 18th c Buchanite cult who shocked Calvinist Scotland with their abandonment of conventional morality. As their sworn enemies – the church, the mob and death – rallied against them, Elspeth and her followers set off on the path to immortality.
Full tour listings
SEPTEMBER
27 Strathpeffer – Strathpeffer Pavilion
8.00pm 01997 420124 £10/£7
28 Plockton Village Hall
8.00pm 01599 534702 £7/£2
29 Arisaig – Astley Hall
8.00pm 01687 450263 £7/£5
30 Strontian – Arainn Shuaineirt
8.00pm 01397 709228 £8/£6 www.sunartcentre.org
OCTOBER
4 Lochinver Village Hall
8.00pm 01571 844262 £6/£5
5 Stornoway – An Lanntair
8.00pm 01851 703307 £8/£7/£6
7 St John's Town Dalry High School
7.30pm 01644 420374 £7/£
8 Glasgow – Gilmorehill G12
4.00pm & 8.00pm 0141 330 5522 £8/£6 [email protected]
9 Kirkpatrick Durham Hall
8.00pm 01387 253383 £7/£5
11 Rosehall Village Hall
8.00pm Tickets on door £7/£5
12 Lyth Arts Centre
8.00pm 01955 641270 £10/£8/£6 www.lytharts.org.uk
13&14 Inverness – Spectrum Centre
8.00pm 01463 234234 £10/£8 www.eden-court.co.uk
Come, Chosen Flock, and join us on the road from Irvine to Armageddon (although neither are on the official tour schedule). You have nothing to lose but eternal salvation.
Matthew Zajac
15/1, Bellevue St.,
Edinburgh EH7 4BX
0131 556 6637
07813 781636
[email protected]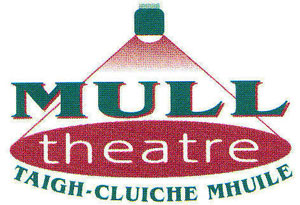 EGG on EIGG
(and 'ART' too!)
Mull Theatre on tour all over Scotland until October 7
This autumn, Mull Theatre's tour is one with a difference – 2 shows on the road at once. A mini-rep season all in one day. For adults, there is the international hit comedy 'Art', and for everyone age 4 upwards we have the charming galactic adventure EGG. These shows will be seen in village halls, arts centres and other venues all over Argyll, the Highlands and especially the islands. Particularly worth mentioning is that both productions (N.B. the children's show is called EGG) will play on the tiny island of Eigg. Two Eggs, anyone?
In fact these shows are covering more ground than you might think possible within a short period, with performances most evenings and mornings in a wide range of places; see below for details.
EGG devised and performed by Fiona Colliss
EGG is a charming galactic tale about Red, whose mission is to protect an egg that is bound for Earth in a spaceship. Red must keep the precious egg happy, but sometimes she gets carried away and things don't go to plan! A very family friendly show, suitable for all ages.
Fiona Colliss is a trained clown, circus artist, youth theatre leader and registered "Clown Doctor". "I love being a clown: one who is innocent and naïve, emotional and empathetic; who lives in the present but can imagine fantastic adventures. Charlie Chaplin is my greatest influence because of his ability to follow his heart regardless of consequences and his willingness to see play in every situation."
Devised and performed by Fiona Colliss
Set Design Richard Firth
Sound Design Gordon Colliss/Marcelo de Oliveira
Costume Hilary McDonald
Director Maria Oller
ART by Yasmina Reza, translated by Christopher Hampton
One of the funniest, most successful and enjoyable plays of recent years and an international success story, this comedy opened in London's West End in 1996 to rave reviews, winning an Olivier Award and the Evening Standard Award for Best Comedy.
Says director Alasdair McCrone: "An almost perfect chamber piece and a delight to watch. I've been hoping to get the rights of this show for ages but it's only just become available after a long commercial run in London and elsewhere. It's a beguiling piece which deserves considered appreciation. At first sight it seems to deal with some quite esoteric issues but on closer scrutiny it turns out to be a hilarious comedy, a battle of wits and wills amongst friends, with arguments as vitriolic as only people who really know and love each other can get away with. But listen closer again, and you'll find a lot more; this is a show full of truths and playful ideas with great rewards for the performers and audience."
Alan Steele as Serge, Owen Gorman as Yvan, Tony Ventre as Marc
Directed by Alasdair McCrone
Designed by Alicia Hendrick
Costumes by Kat Smith
Set Construction by Alan Melvin
Original music by Martin Low
Tour dates 2006
EGG
[NB many Egg performances are for schools only – the following are open to the public]
September
Sat 16 Ardrishaig North Church Hall 11am £4/£3 at door
Sun 17 Cairndow Village Hall 11am £4/£2.50 01499 600260
Sat 22nd Rosehall Village Hall 10.30am £3 01549 441291
Sun 24th Kyle Hall 11.30am tbc 01599 544308
Sun 24th Astley Hall 7pm £6/£4 01687 450263
Mon 25th Eigg Community Hall 3pm tbc 01687 482486
October
Mon 2 Resolis Memorial Hall 2pm 1 01381 610204
Wed 4 Scott Hall, Forgue 10.15am tbc 01466 730314
Thu 5 Universal Hall, Findhorn 10.15am tbc 01309 690110
Fri 6 Woodend Barn 10.15am tbc 01330 825431
Sat 7 Glenuig Hall 2pm £3 (adults free) 01687 470267
'ART'
September
Tue 12 Campbeltown Grammar School 7.30pm £8/£6 01586 553462
Wed 13 Bowmore Hall, Islay 8pm £7/£5 01496 810262
Fri 15 Ardrishaig North Church Hall 7.30pm £6/£5 at door
Sat 16 Cairndow Village Hall 7.30pm £7/£3 01499 600260
Mon 18 Gibson Hall, Garelochead 7.30pm £6.50 01436 810403
Tue 19 Glen Urquhart Hall 8pm £8/£6 01456 450155
Wed 20 Carrbridge Village Hall 8pm £8/£6 01479 841211
Fri 22 Rosehall Village Hall 8pm £7/£5 01549 441291
Sat 23 Kyle Hall 8pm £7/£3 01599 544308
Mon 25 Eigg Community Hall 8.30pm £7/£5 01687 482486
Tue 26 Sabhal mor Ostaig, Skye 8pm £8/£6 01471 844207
Fri 29 The Aros Centre, Skye 7.30pm £10/£8 01478 613649
Sat 30 Ardross Community Hall 8pm £8/£6 01349 880591
October
Mon 2 Resolis Memorial Hall 7.30pm £8/£6 01381 610204
Tue 3 Scott Hall, Forgue 7.30pm £8/£6 01466 730314
Wed 4 Universal Hall, Findhorn 7.30pm £8/£6 01309 690110
Thu 5 Woodend Barn 7.30pm £8/£6 01330 825431
Fri 6 Glenuig Hall 8pm £8/£6 01687 470267
Sheena Miller – Marketing
Tel: 01688 302673 mailto:[email protected]
Artistic Director Alasdair McCrone
Administrator Lesley Hastie
Chairman Gillian King
Mull Theatre Druimfin, Tobermory, Isle of Mull Argyll PA75 6QB
www.mulltheatre.com
Box Office Tel: 01688 302828 Email: [email protected]
Mull Theatre Ltd. is registered in Scotland as a limited company with charitable status
Charity No: SCO 013560. Mull Theatre is part of the Scottish national theatre community.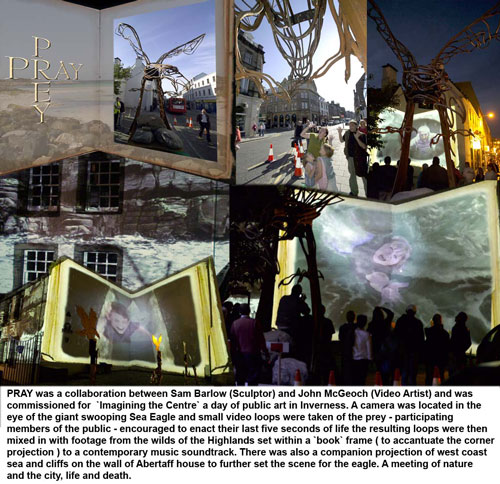 Arts in Motion @ Imagining the Centre, Inverness, 9 September 2006